Australia Travel Visa Application
Temporary residency visas for Australia, including Australian Visitor Visas, Tourist visas, Holiday Visas, Business Visitor Visas and Working Holiday Visas
Unless you are an Australian or New Zealand citizen, you will need a visa to travel to Australia. You must ensure that you have the appropriate Australian travel visa for your visit before you depart, or you may be refused entry. You may even be refused permission to board the plane.
Yes. As a British citizen / UK passport holder, you will need the appropriate Australian travel visa for your trip. Unless you hold an Australian or New Zealand passport, you will reed to apply for a visa to travel to Australia.
Australian Travel Visas are temporary residency visas which allow you to enter Australia on a temporary basis, in accordance with the conditions of the visa that is granted to you specifically. Australian Travel Visas are normally valid for a period of 12 months, and usually allow for multiple visits to Australia during that period. The maximum number of days that you can stay in Australia on any one particular visit is stipulated in the conditions of your visa.
Please note: Just because you are granted a visa, it doesn't mean that you are guaranteed entry into Australia. If you have been less than truthful when completing the application, you could find yourself being denied entry to Australia, despite having a visa.  If your circumstances are make it likely that you will be refused entry (or a visa), it would be a very good idea to speak to one of our migration consultants. We will determine the best way to present your case could be presented to Australian Immigration, to give you the best possible chance of being allowed into Australia.
This depends on the type of visa. Visitor visas start at 3 months, but can be for up to 12 months for a single visit. However, depending on your circumstances, you could also be limited to a single visit of 30 days.
Australian Travel Visas do not permit paid work / employment, although voluntary work may be allowed. The exception to this is the Australian Working Holiday Visas where employment within specified industries is permitted. Other types of work / employment visas are available under the Permanent Residency Visas.
If you wish to study in Australia, or attend a training event, this activity will normally be limited to a maximum of 3 months for the duration of the visa. If you need to stay longer than this, you will have to apply for an Australian Student Visa
With the appropriate Australian Business Visitor Visa, you will be allowed to conduct limited business activities on short term visits (maximum 90 days) (see below).
The type of travel visa for Australia that you need will depend on
The nature of your visit, whether holiday / tourism or business
Your citizenship / The passport that you hold
How long you intend to stay in Australia
Your personal circumstances
What visa do I need to visit Australia?
Australian Business Visitor Visa
This is a short stay business e-visa (ETA) that allows you to conduct typical business activities such as attending meetings with clients, meeting with suppliers, attending seminars. It does not allow you to receive payment for work carried out in Australia.
How do I apply for a visitor visa?
Follow the links for the type of visa that you require, where you will see more information about the type of visa, and also the application process.
How long does it take to get an australian visitor visa?
The length of time it takes to get a visitor visa for Australia, depends on the type of visa. For more accurate guidelines, click on the links for the individual visa types. Electronic visas can be issued within a day, whilst other types can take as long as 12 months for a decision, depending on your circumstances
Please note: a percentage of ALL types of visa applications is sent for further scrutiny by a Migrations Case Officer. For this reason, all we can only provide you with a guideline. You should NEVER confirm travel arrangements until your visa has been granted 
How to apply for a visa when you don't hold a passport for an ETA-Eligible country
Australia Visa Requirements
Basic Entry Requirements for Australia
Here are some general requirements to consider if you are planning on visiting Australia. There are different requirements for different visa types. Generally, the longer you wish to stay, the more stringent the requirements.
You must have a valid passport
You must have 6 months or more remaining on your passport on the day of exit from Australia.
Some visas are linked electronically to your passport (number). So, if you need to replace your passport, for whatever reason, your Australian visa will no longer be valid, and you will have to re-apply for your visa. It is therefore a good idea to renew your passport if it is getting close to the expiry date.
Proof of funds
You must have funds to support yourself financially during your stay in Australia.  If your plans include staying with friends / relatives, then you will be required to provide details of this arrangement
You must be in good health
Basically, you must not present a risk to the local population, and not be a potential drain on medical resources.
You must be free from tuberculosis at the time of travel to, and entry into, Australia.
If you have spent more than 3 consecutive months in the last 5 years in a country considered to be of high health risk, you will be required to have a medical test;
If you intend to study in a class-room environment for more than 4 weeks, you may be required to undergo a chest x-ray examination before commencing your studies
For some visas, applicants who are over the age of 75 are required by law to meet the visa's medical requirements.  These requirements include:
providing evidence with your application that you have health insurance to cover your stay in Australia

undergoing a health examination by a certified doctor to prove your fitness for travel to Australia
You must be of good character
The key requirement here, is that you must not have a substantial criminal record. A substantial criminal record is based on the length of a sentence imposed by a court of law, rather than the time actually spent in prison. Custodial sentences amounting to 12 months or more, is considered to be substantial.
All convictions MUST be declared
Can I go to Australia with a Criminal Record?
Australia has very strict rules regarding visas for people with a criminal record. If you have criminal convictions, you MUST declare them when you apply for an Australian visa.
If you have a criminal record (regardless of which country you hold a passport for), you will not be able to apply for an Australian visitor visa in the normal way. You may still be able to apply though, and our experts can help you with that.
Find out how to apply for an Australian visa if you have criminal convictions
This is a type of visitor visa that allows young people to travel around Australia, whilst also working to fund their holiday. Employment is temporary (maximum 6 months with one employer), and is restricted to specific industries and post codes within Australia.
You must be aged 18-30 (or 35 if you have a Canadian or Irish Passport holder)
You must hold a passport for an eligible country
You must meet health and character requirements
You must proof that you have funds for the initial part of your holiday, and also for onward travel at the end of your visa
Find out more about the Australian working holiday visa and how to apply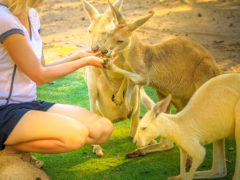 An ETA visa allows multiple visits to Australia for the purpose of tourism for periods of up to 3 months at a time. It is valid for 12 months from the date you first enter. You may study / train for up to 3 months. This is the most common type of holiday visa for Australia