Visas For Australia are pleased to recommend Anglo Pacific World Movers
Anglo Pacific is one of the UK's leading international moving companies, and is located in London, Manchester & Glasgow. Established for over 30 years, they have an excellent reputation for friendly, professional and efficient moving services to Australia.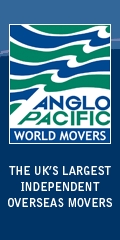 Anglo Pacific's services include:
An experienced consultant visiting your home to personally assess and discuss your move.
A free no obligation quotation.
Professional packing & shipping to Australia.
Door to Door delivery, including Customs Clearance and unpacking.
Practical advice & assistance throughout the move.
Competitive excess baggage shipping/airfreight services.
For an information pack, free home survey or quote please call Sara, Rula or Noel on 0208 838 8081.
E-Mail: visasforaustralia@anglopacific.co.uk or visit their website.